I have to say that I am like most in that I love top 40 and most of what I listen to comes straight from the radio. Hunting down new artists is hard, have you ever done it? It can really take forever to find someone somewhere that gives you an eargasm <–Heard this word for the first time a few weeks ago and love it! Although it may take forever  I like finding new artists that just fill me with excitement. It's one of the things that makes me happiest.
I thought it would be fun to share with you guys artists that currently give me eargasms. I'm not sure how often these will be but I think it will still be fun.  I'm no music critic and I won't be able to give you awesome reviews and backgrounds, I simply want to share artists that make me happy.
Here are my current favorites.
Lana Del Rey
I've heard plenty about her in the past year  but it wasn't til I heard her latest song on the radio that I started to listen. I've been missing out. Love her style and her voice is divine. I love her whole vintage glamour. Vocal wise for me, she is up there with Florence Welch and Adele.
Ellie Goulding
I'm sure you've heard of her. Her VOICE! *Faint. Her album on my ipod + Headphones +Laying on the floor= Happiness. Nothing else to say.
Lenka
Ah!!! I LOVE THIS GIRL!!! She makes me want to cry. Her music is just my kind of music. Talk about eargasm! Her music makes me want to put on one of those puffy girly summer dresses in pastel colors, curl my hair, do my makeup all nice and sweet and pair it all with light accessories and summer wedges and just have an awesome and happy filled day. <— Haha I told you it wouldn't be an artsy fartsy type of review. That's how I can best explain how her music makes me feel.
Lindsey Stirling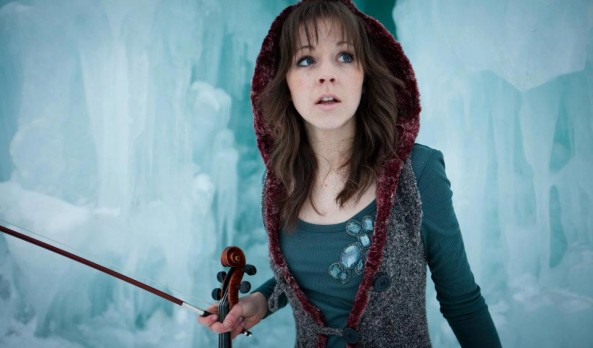 I don't know how it took me so long to hear about this girl seeing she is from UTAH!!! I am amazed at the talent of some people. She experiments mixing classical violin with hip hop and was on America's Got Talent. Her newest experiment was dubstep and I agree with this 110% and definitely want to hear more. It sounds crazy, I know, but it seriously brilliant. I love her and am hoping to see her on tour.
Lorde
This girls voice..OH MY GOSH!!! I cannot believe she's only 16! Ah…to be blessed with vocals like hers. I just plain love her voice. I could listen to pretty much anything of hers and I'm sure I'd love it on her voice alone. It's just THAT good to me.
Nonono
I heard about these guys on someone else's blog a few weeks ago but I cannot remember where. The moment I heard them I was in love. If you watch the video to my favorite song of theirs I literally dance around my house like the guy does in the video haha. The female vocals are so pleasant on the ears and the music just feels freeing. I love songs like that. They literally make me FEEL happy.
Taylor Jayne
I serendipitously found this girl a month or so ago and am still loving her. I went and saw her live and she is the sweetest. She makes me want to put on a girly dress and dance around to my favorite song of hers. It just makes me feel so happy. He voice is gorgeous. I love her.
Who is currently responsible for your eargasms?! Anyone I should be listening to?? Let me know.
Til next time,
♥ Karla