While doing my daily blog surfing I came across this one time link up from Running in Stilettos,  "I'm the kinda girl who…". I  just had to do it.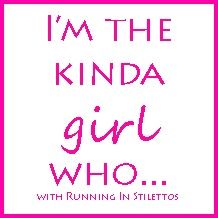 Talks to my doggies like they can understand exactly what I'm saying.
Has solo karaoke sessions when home alone.
Watches Friends over and over and still laughs at every episode.
Misses the 90s television and music.
Isn't afraid to say, "I don't get it." in response to a joke.
Daydreams…..a lot.
Talks to herself in a British accent most of the time.
Gets angry at the people in world and cries sometimes.
Believes starvation and poverty shouldn't exist. Our planet has enough resources for all of us to lead incredibly happy lives but human greed is keeping us from it.
Wishes I could be a professional liar…a.k.a. actress, so I could live multiple lives in my lifetime.
Thinks I would make an awesome spy or secret agent.
Will skip ahead in a book when it gets intense just to "make sure", then goes back and continues reading.
Wants to adopt every homeless dog I see.
Wants to experience different cultures.
Can't wear shoes in the house.
Loves dresses.
Loves the rain and the smell of wet dirt.
Can't eat a taco or soup without lime. I just can't. It doesn't taste right.
Tries to see the best in people even after they let me down time and time again.
Is excited and optimistic about life.
Your turn.
Til next time,
♥ Karla